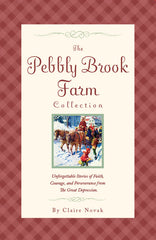 The Pebby Brook Farm Story Collection by Claire Novak (Print Book)
Join Katie Robinson, her brother Joseph, and her little sisters, Christine and Anna. You'll find them waiting for you at Pebbly Brook Farm. Set in the days of the Great Depression, these truly delightful stories will teach your children unforgettable lessons in faith, courage, and perseverance.
The stories in this book are:
The Discovery of Pebbly Brook

Double Duty

By the Bushel Full

One Big Shot

Judy Gets a Lickin'

Fairest of the Fair



Customer Review:

"This collection of stories is based on the real life experiences of the author's father who grew up on a farm in Northern Illinois. I was able to preview the first story titled "The Discovery of Pebbly Brook". This story is very sweet and funny. It depicts family life, sweet family memories of the past, Christian values, the wonders of nature, and a little of what it is like to live on a farm. My children were listening with me, and they greatly enjoyed it as well. I think it is suitable for all ages." ~Sarah M.

Mail target date: December 1st, 2013