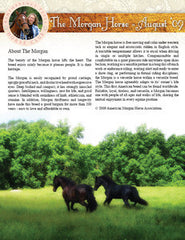 The Happy Trails Horse Club Bundle
The Happy Trails Horse Club™ is a one-of-a-kind resource for girls who want to learn more about horses and explore the many positive ways to get involved with various riding disciplines. Each booklet features a different breed and discipline, weaving together a collection of fact and fiction about equestrians from the past and those who are making a difference in the world today.
Each booklet features a horse-themed monthly devotional.



Our guests are chosen because of their inspiring work with horses and featured in a pre-recorded interview.
A Horse of the Month profile that promotes various breeds. Horses chosen for this profile represent their breed through exemplary actions. The horse of the month is pictured along with promotions for corresponding organizations and breed registries (such as the AQHA) on the membership site.
Featured guests – these people serve as role models to our members. Their testimonies teach girls how to follow their love for horses while using that love to impact others. The riders are featured in a "Q&A"-style interview.
Recommended reading: reviews of classic horse stories written by authors such as Marguerite Henry and Walter Farley. For girls, by girls.
This bundle includes eight E-booklets and audio conversations that you click on to listen to.