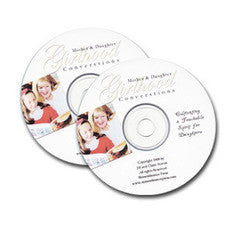 Girlhood's Most Cherished Lessons - Audio Workshops for Mothers and Daughters
Cultivating a Teachable Spirit for Daughters
Dear Daughter,
What is your attitude toward receiving instruction from your mother? This isn't a question you may normally ask yourself, but the answer will determine if you are teachable or not. In this workshop, Jill and Claire Novak will show you why you should treasure your mother's wisdom and knowledge above anyone else's and how to develop a teachable spirit towards her instruction. See how viewing your mother as your greatest friend and mentor will allow you to graciously receive her God-ordained council and enable you to safely navigate through life's sometimes confusing path from girlhood to womanhood.
Girlhood's Most Cherished Lessons for Mothers
Dear Mother,
You are the greatest curriculum your daughter will ever study. Yes, girlhood is a priceless training ground with many opportunities to teach your daughter the lessons for becoming a godly woman — the most important being "caught" and not "taught." So what kind of teacher are you? Are you approachable or too busy? Gentle or harsh? Physically warm and nurturing or brusque and distracted? Jill Novak will encourage you to catch the vision for gently mentoring your daughter through spontaneous everyday moments or planned activities. Make the most of this precious season in your daughter's life as you both learn from Girlhood s Most Cherished Lessons.