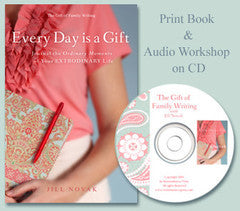 Every Day is a Gift- Journal the Ordinary Moments of Your Extraordinary Life eBook & The Gift of Family Writing MP3 Audio Workshop
Everyday is a gift with stories just waiting to be captured—stories about the people, places, and things that touch your heart!
Just think of all the experiences you and your children have shared together: everyday moments, special times, or life lessons tailor-made by God, irreplaceable moments that you thought you would never forget. Yet life rushes by like a reel of film on a movie projector, thousands of unique experi­ences in a blur. Precious few will be remembered unless they are viewed in slow motion. Journaling slows the motion.
With examples from the journals of children and adults, Jill Novak shows how you and your children can preserve life's everyday moments.

Whether you're a parent, grandparent, educator, scrapbooker or family historian you will be delighted with this journaling approach to preserving your life stories now and for future generations.
The Gift of Family Writing: Every Day is a Gift will teach you how to:
Enable children of all ages – preschool through high school – to capture their life stories as they happen
Equip ALL your children, regardless of their learning styles, to become confident writers
Encourage even the most reluctant writers to utilize their oral storytelling skills as the basis for their writing
Inspire children who hate to write
Develop the practical techniques that "real" authors use as they write from what they know
Strengthen family relationships through the written word
Communicate vision and a hope in Christ to each of your children
Express gratitude for loved ones through tribute writing
Preserve your spiritual legacy for future generations
For toddlers to teens, and parents, too!