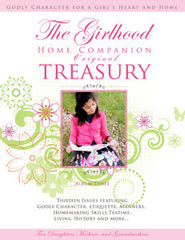 The Girlhood Home Companion Orignial Treasury Album eBook
Originally published from 1998-2001, The Girlhood Home Companion (Original) Treasury Album contains 13 precious Girlhood issues that center on one character quality per issue. Each issue contains editorials, articles, stories, recipes, craft and sewing projects that build godly character and help your daughter grow in her homemaking skills.
370 pages, black & white.
Featured Themes:
Hospitality
Kindness
Contentment
Gratitude
Quiet and Gentle Spirit
Trust
Courage
Dependability
Perseverance
Forgiveness
Femininity & Grace
Obedience
Patience