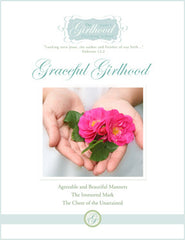 The Girlhood Finishing School: Graceful Girlhood Issue One (print edition)
Print Edition Temporarily Out of Stock (Still available in eBook)
A grace-filled curriculum for the heart!
If we want to train our daughters to become lovely young Christian women, inside and out, we have to gently guide them along the path of girlhood to womanhood–one lesson at a time.
This bi-monthly publication can be read and absorbed at a leisurely pace, one or two times a week, and the content of each lesson can be discussed and implemented into your routine as you are led.
Topics center around grace-filled living, godly character, manners, homemaking, health and beauty, penmanship and copywork, plus encouraging articles for mothers, too.
It is often said that we are what we read, so it is our hope that The Girlhood Finishing School will be an encouragement for you and you daughter(s), one that will help them grow in their faith, develop godly character, and lovingly serve their families from the heart. 
Issue 1 Includes:
The Immortal Mark
The Nurtured Heart
It Shall Not Seem Hard to Thee
Making Others Happy
The Sin of Omission-Poem
The Cheer of the Unattained
Memories of Girlhood
The Home Lights
Systems in Work
How Emily Made Mistakes (for younger girls)
Agreeable and Beautiful Manners (for older girls)
Kind Words Only
Greeting the New Day
Recipes for Beauty
Copywork/Penmanship
For Mothers–Understanding the Dreamy Girl & Making Changes Gently
48 pages printed, saddle-stitched, black and white.

Mail target date: October 15th.

Also available in a digital format
To be notified of new publication releases, sign up on the front page of our webste
here
to receive our newsletter.