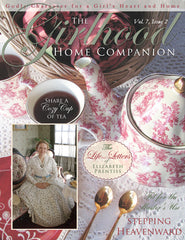 "Stepping Heavenward" Girlhood Home Companion
This Christmas themed edition of The Girlhood Home Companion celebrates The Life and Letters of Elizabeth Prentiss, a Christian author from the19th century who wrote the book Stepping Heavenward. From the pages of her journals and personal letters to family and friends, we see how Mrs. Prentiss not only worked out her salvation with fear and trembling but joy and victory too! No other writer from her era presents the gospel in such a winsome manner. Elizabeth Prentiss's writing is as relevant today as it was for the thousands of captivated readers of her day.This special issue will encourage both you and your daughter to view your trials as stepping stones in the upward journey of the heart. 
Contents of this issue:
Beloved books
Share a Cozy Cup of Tea
Across the Miles
The Snow
The Journey Upward
The Tale of Two Dogs
Winter
An Invitations to Christmas Tea
The Life and Letters of Elizabeth Prentiss
The Writing Desk
What Ever Happened to Old Fashioned "Thank You" Notes?
Life's Patchwork
Celebrating Life
Christmas Card Ornament
The Girlhood Home Companion
is a beautiful full color magazine that
encourages young ladies to enjoy their precious girlhood years while walking closely with the Lord and developing a deeper relationship with Him. Each themed issue is filled with editorials, articles, and stories that will minister to the heart of your daughter, while teaching her the practical skills of homemaking, cooking, sewing and other girlhood pastimes.There is nothing so lovingly designed with the heart of a Christian girl in mind as
The Girlhood Home Companion.