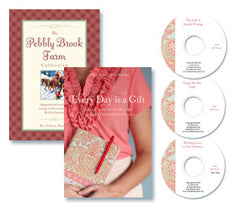 Every Day is a Gift and Pebbly Brook Farm Collection Bundle
Every Day is a Gift: Journal the Ordinary Moments of Your Extraordinary Life.  Print Book and Audio Workshop on CD By Jill Novak - The Gift of Family Writing is a result of what I've discovered over the last eight years from teaching my four children (pre-school through high school) to journal their life stories. Just like your children, they are so unique, with different learning styles and temperaments. But I have learned that all children – not just the naturally gifted ones – can confidently express themselves if they are taught to value their life experiences and write from what they know. For parents and children. -$24.95
The Gift of Family Writing: Every Day is a Gift will teach you how to:
Enable children of all ages – preschool through high school – to capture their life stories as they happen
Equip ALL your children, regardless of their learning styles, to become confident writers
Encourage even the most reluctant writers to utilize their oral storytelling skills as the basis for their writing
Inspire children who hate to write
Develop the practical techniques that "real" authors use as they write from what they know
Strengthen family relationships through the written word
Communicate vision and a hope in Christ to each of your children
Express gratitude for loved ones through tribute writing
Preserve your spiritual legacy for future generations
Forget Me Not Faith Audio Workshop on CD By Jill Novak - God is writing "His" story every day, and its right at the end of your fingertips. This workshop will inspire you to record your family's spiritual journey with purpose and clarity. Reflections, observations, prayers, testimonies, tributes, poetry, and letters can all be preserved in a Book of Remembrance (Malachi 3:16) that will strengthen your faith and make an eternal impact for generations to come. - $9.95
Letters to My Children, Part One & Two Audio Workshop on CD By Jill Novak - We blog, instant message, and email our friends and associates on a regular basis, but sadly our own children get lost in the mix. It doesn't have to be this way, though. See how to keep hearts connected by writing meaningful letters and spontaneous notes to your children. Jill Novak shares inspiring and practical tips for establishing a letter writing ministry that will strengthen your family relationships and become a testimony for generations to come. Learn how the written word has the power to change hearts, transform lives and give vision. Create a legacy of love for your children and grandchildren, one letter at a time with Letters to My Children –A Legacy of Love for all Generations. - 2 hours - $9.95
The Pebbly Brook Farm Collection By Claire Novak-Print Book
(The techniques that were used to capture and write these stories are featured in Every day is a Gift)

These truly delightful stories will teach your children valuable lessons in faith, courage and perseverance at a time when our country is facing many of the hardships we did back then. Join Katie Robinson, her brother Joseph, and her little sisters, Christine and Anna in these six action packed stories that are sure to warm your hearts and make you smile! You'll find them waiting for you at Pebbly Brook Farm.
The stories in this book are:
The Discovery of Pebbly Brook

Double Duty

By the Bushel Full

One Big Shot

Judy Gets a Lickin'

Fairest of the Fair
$14.95


Customer Review: "This collection of stories is based on the real life experiences of the author's father who grew up on a farm in Northern Illinois. I was able to preview the first story titled "The Discovery of Pebbly Brook". This story is very sweet and funny. It depicts family life, sweet family memories of the past, Christian values, the wonders of nature, and a little of what it is like to live on a farm. My children were listening with me, and they greatly enjoyed it as well. I think it is suitable for all ages." ~Sarah M.